As an Amazon Influencer, we earn from qualifying purchases you might make if you click any of the links on this page.
While a projector screen is fantastic to watch movies and the latest series, it can be a hindrance in the home. The projector screen might be in the way, it doesn't fit with the house design, or you may want to protect it from little ones.
We're showcasing the best method to keep a projector screen hidden at home. We've rounded up the best 10 ways to do it so you can browse and find the most feasible option.
Not everyone has a dedicated home theater so you can follow these steps if your projector screen is in your living room or other shared spaces.
Budget Needed for a Hidden Projector Screen
For most people, the budget for a hidden projector screen can cost just a couple of bucks.
But if you're planning a house renovation specifically for the projector screen housing, it can cost up to $4000. A ceiling mount or false wall can be expensive. Otherwise, there are options that range from around $50 – $100 if you just need a cost-effective solution.
It depends on the screen type you have or what you're looking for. The latest projector screen innovations already solve the problem. There are a bunch of motorized screens available on the market that work flawlessly.
However, these types of screen innovations will cost you more than a standard white screen. But besides buying new projector screens, there are a few methods that hides a screen.
Methods to Hide Your Projector Screen
1. A Motorized Projector Ceiling Screens
Motorized screens are fantastic options for people who need a simple method to hide your projector screen. While prices can be high, there are many affordable motorized screen types. Here's a list ranking the best-motorized projector screen for multiple budgets.
A motorized screen is much easier to hide than a fixed projector screen.
With the in-built motor system in the screen housing, it can furl up and down with remote control. This helps save space when it's not in use and is convenient to set up when watching movies.
These projector screens usually come with a ceiling mount so you can do the installation yourself. Once it's installed you can setup speakers and create your very own home theater. Once not in use, simply hide the equipment by retracting it back up.
Now it's out of sight and no longer visible.
2. A Portable Projector Screen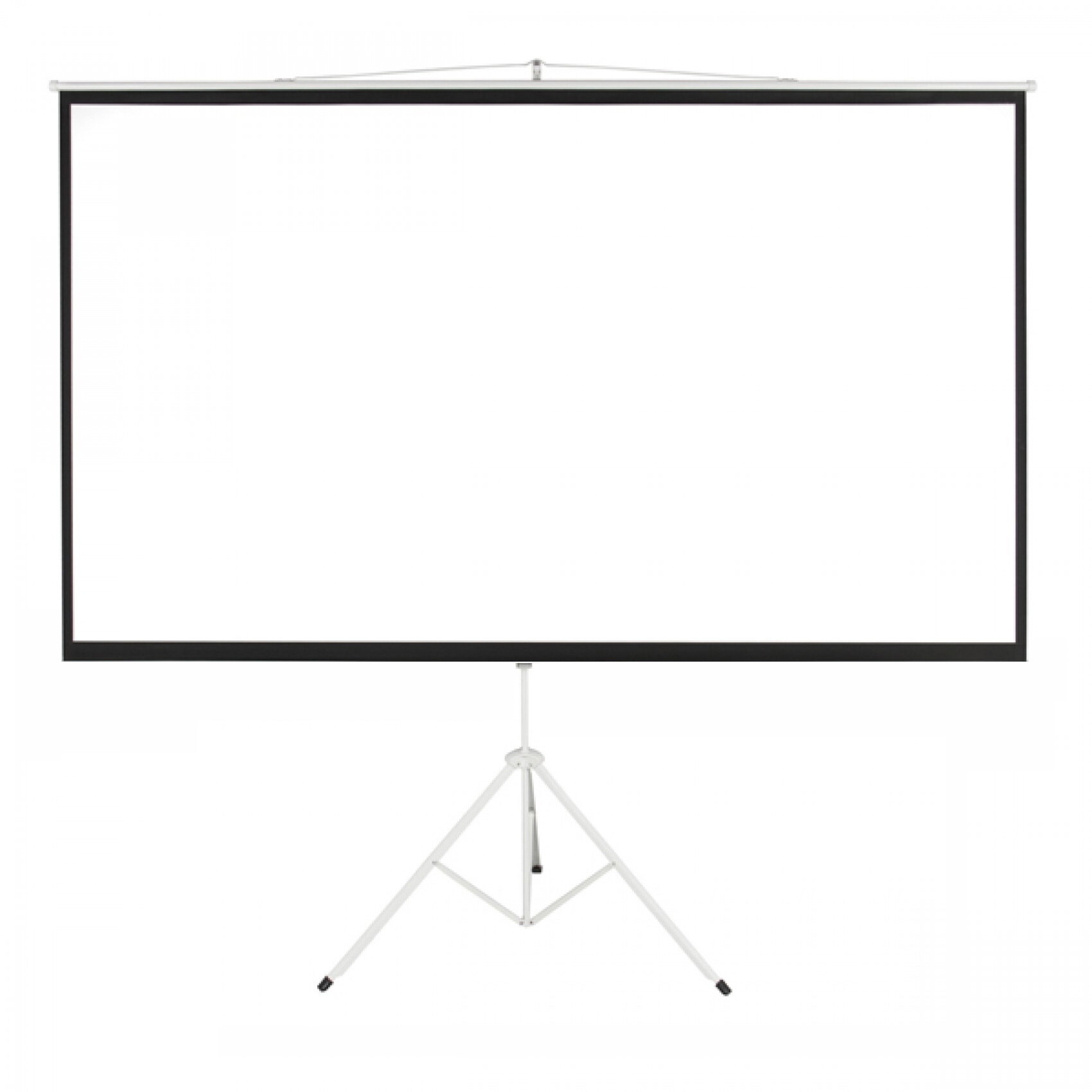 If you'd rather not install a projectors screen to the ceiling, you can get a portable projector screen. These are excellent for weekly movie nights and even for outdoor use. These screens typically come with an extension tripod to hold up the screen.
It's easy to pack up and put into a store room or behind doors. This is one of the most popular ways of hiding your projector screen. It's also easy to set up in any room against a wall, or on your front lawn. This way, you don't need multiple screens in every room.
It's definitely not the most stylish home theater, but it's easy to install and the image & video looks as good as any other screen.
3. A Floor Rising Projector Screen
A floor-rising motorized screen is one of the latest screen innovations in the market. It's one of the classiest ways to hide projector screen at home. It works with the same concept as a motorized screen installed on a ceiling but it slides up rather than down.
The screen housing unit is a rectangular box that sits on the floor. The hardware on these types of screens is top-notch so they're more expensive than a normal motorized screen.
And since there's no need to install the screen, you can move it around to another room and place it against any walls that have enough space. You can also build a pretty snazzy home theater setup with a soundbar and speakers.
This is by far the most elegant method without renovating your home with panels or a false wall.
4. Hidden in a Coffered Ceiling
If your home has a coffered ceiling, you can hide your projector screen within the coffer. However, this really only applies if your home already features a coffered ceiling or if you're planning on doing home renovations.
The method is straight forward but we'd advise you to get professional help to install the screen.
To do this, you'll need a motorized projector screen that can fit into your coffered ceiling. Make the measurements accordingly to ensure you can install the screen. If you have the means to pull it off, it's definitely a beautiful way to hide your screen.
5. Cover it with a Curtain
If you wanted a simple solution to keep a projector screen hidden, you can get a curtain to cover up the projector when not in use. You might have to use a false wall during the installation to make the screen really pop.
Floor or ceiling lights to accentuate the screen will complete the project.
You could also put up a curtain rod yourself and DIY a projectors screen cover. To make it even better, we'd recommend getting a motorized system for the curtains so you can control them with a remote.
6. Projector Screen Hidden in a Shelf/Cabinet
If you have space on your wall, you could make an extended housing for your screens. It could double as a bookshelf or for pictures. This will take some planning as you need a shelf that's custom-made to fit your screen.
We'd advise getting a professional to do the installation as you could easily damage your screen.
Fit a motorized screen housing within the shelf, and secure the shelf on an empty wall. Make sure there's enough space for the projector screen to retract in and out of.
7. Use a Changing Room Divider
Another affordable way to hide projector screen is by getting a changing room divider. These are relatively inexpensive and you can get one from a thrift store or on Amazon. When you're not using the screen, simply hide the screen behind the room divider.
If you have a fixed frame screen, this is a solid solution.
8. Recessed Ceiling Projector Screens
Recessed ceilings, also known as flush ceiling installations are a beautiful way to hide your projector screen. They're similar to a coffered ceiling but it's a simpler and cheaper process.
It works the same way as normal motorized screens but the housing is inside a flush ceiling. You won't be able to see any obvious indication the projector screen is there until you roll it down.
We'd recommend getting a trained professional or craftsman to do this as you could easily damage your house's structure.
9. Slides and Panels
For a simpler build, you can craft slides and panels for your projector to hide behind. You'd just need some wood and wheels for the panel, and enough space to place it. It would work like a false wall which you can slide open and close to hide projector screens
It'll take some work to do but it can look sleek once it's painted.
10. Hide it Behind Some Furniture
Probably the easiest way to hide screens is by placing furniture in front of it. It could be a rollable cabinet or poster you have lying around. Try to avoid direct contact with the surface as it could damage it. If you have a big piece of art, that could work as well.
It's not the most ideal system to hide screens, but it's a realistic option.
FAQs
What's the Cheapest Way to Hide Projector Screen?
The cheapest way is by installing a curtain over the screen. It's simple, can be done easily, and doesn't cost much for a new windows shade compared to other methods. You could also have old curtains/sheets lying around that you can use.
Does Hiding A Projector Screen Protect it?
Yes, hiding a projector screen can protect it from the elements and dust. There are many ways you can accidentally damage a screen by scratching it with clothing or hands, spilling something on it, etc.
How Much Does it Cost to Hide Your Projector Screen?
A recessed ceiling or coffered ceiling can cost up to $4000 depending on the renovation. Alternatively, you can get a new motorized display for under $1000. You can also use simpler methods like curtains, covers, or whatever is readily available at home.
Why Do You Need To Hide a Projector Screen?
Hiding a projector screen can keep things tidy. It also looks much nicer if you have an eye of interior design. It also helps keep it out of reach of children who might trip over or damage it.